ClearCom Freespeak Base Station
The Clear-Com FSII-BASE-II is a base station for the wireless FreeSpeak II 1.9GHz and 2.4GHz active transceiver and beltpacks with four 2-wire analog partyline connections, four 4-wire audio connections and four digital displays with soft keys. The base station can operate a mix of up to 5 1.9GHz and/or 2.4 GHz beltpacks on a single system. The base station can be used in Main Station mode with Talk and Call soft keys or as a Headset Station for communication and monitoring from the panel.The base station's digital displays allow easy system configuration directly from the base station or through the browser-based Core Configuration Manager tool.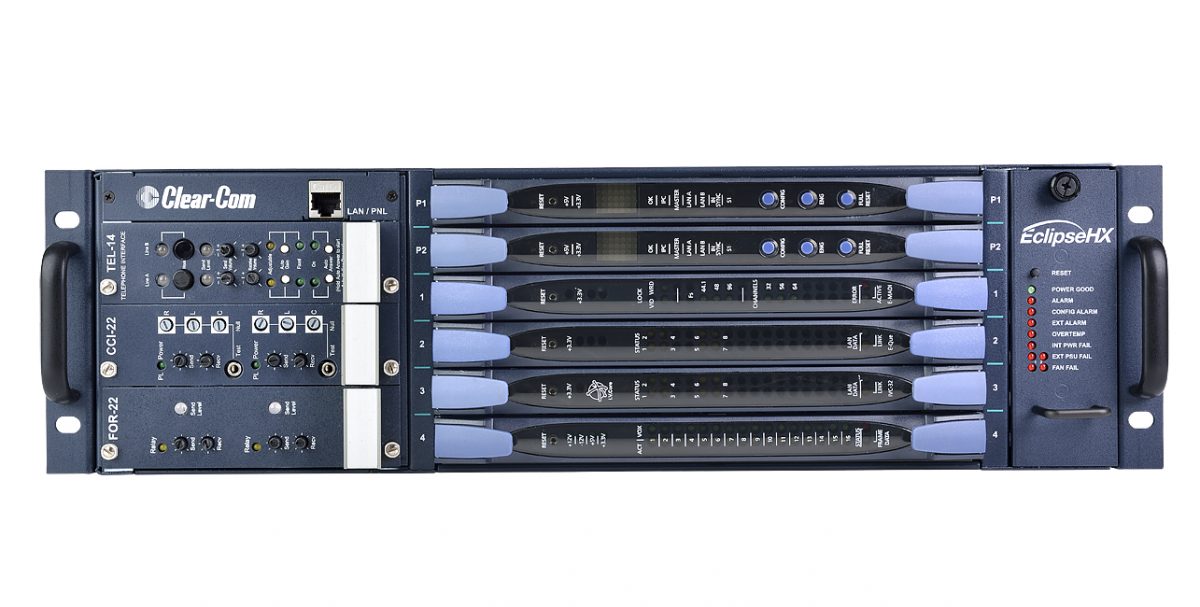 ClearCom Freespeak Delta Frame
The Eclipse HX-Delta is a three rack unit (3RU) matrix intercom system frame provided with 2 Central Processing Unit (CPU) cards and 2 external power supplies. The frame has slots for 4 I/O interface cards and 3 interface modules. This compact matrix frame offers the potential to connect users over dedicated CAT5, IP infrastructures (LAN, WAN and Internet), Fiber networks and integrate wireless beltpacks. The HX-Delta can also interface with external sources including 4-wire audio, partylines, telephone lines and MADI, all of which can be seemlessly routed to user key panels or beltpacks. Up to 64 Eclipse HX matrices can be connected to form a single networked installation.
ClearCom Freespeak Omega Frame
Eclipse HX-Omega is the most advanced and highest density digital matrix system on the market, offering up to 460 ports (using combinations of 64-channel MADI cards, 32 port IP/Integra cards and 16 port MVX-A16 RJ-45 cards) over 15 interface card slots in a 6RU chassis. Each of the 15 slots can house one interface card. Multiple types of Interface card are available for different applications. The MVX-A16 Interface card, for example, provides full-duplex connections with panels, external lines, and interfaces to other matrix systems. External interface modules are connected using external 1RU and 3RU IMF frames, leaving all 15 slots available for port and interface cards. Up to 64 Eclipse HX matrices can be connected to form a single networked installation.